Bruce Irving Music
Welcome
I have a new album! "Center Of It All" was released June 3, 2018 and is available for download now on CD Baby Actual CD's will be available there soon, as will downloads and streaming from Apple Music, Spotify, Amazon, and other sites. Click "What's New" above for more.
I'm a singer-songwriter in Central Massachusetts. My 2012 album "Look at You" and my 2010 album "Message from Tomorrow" are available (CD or MP3 downloads) on CD Baby. They are also available for download from iTunes and from Amazon.com. You can stream all the tracks from these and my earlier album "Jardin du Luxembourg" on my SoundCloud pages. Some of my works in progress and musical experiments are also on SoundCloud.
Videos & Blog
In the last couple of years, I started to experiment with making videos for some of my songs, mainly for songs written for my granddaughter. You can find them on my YouTube channel. I hope to make one or two new ones for "Center Of It All" - we will see how that goes!
Animals Are So Cute -- My granddaughter loves the zoo, so I wrote a song and made this video about some of her favorite animal friends.
Hummingbird -- Stella and I also love hummingbords, so I took a bunch of pictures and wrote a hummingbird song for this video.
Born & Raised on Rock & Roll -- A live birthday party band version of my first (and only) single from the 70's, written by my friend Rob Simbeck
Australia Photos 2006 -- I used the Brushstroke app to make "paintings" from many photos taken in Australia in 2006 and wrote a spacy instrumental soundtrack for this video slideshow
Although I haven't been blogging much recently, there are some 1500 posts from 2005 to 2018 on my blog, Music of the Spheres. It's all about space, astronomy, education, books, AND music (mine and others').
My Storehouse Photo Stories are up - you can see them here
Flowers in Hawaii, a hot air balloon flight in Sweden, WWII aircraft, space flight simulator images, and more.
This has nothing to do with music but at least it's some fun new content for this aging site. Storehouse was a cool photo story service that went out of business. They sent me the web code for all the photo essays I had created and I have posted some of them here. I can't display "Winter Is Coming" and "Deutsches Museum" because I have run out of space (50 MB!?!) on this silly template-based site. I hope to finally move to a more modern and spacious website this summer (2018 - famous last words). But back to the alleged reason for this web site...
My story
I started writing songs when I met a group of musically creative science and engineering dorm-mates, fellow freshmen at Carnegie-Mellon University in Pittsburgh in the early 1970's, back before there were CD's and the Internet (yes, we did have electricity). These CMU folks became good friends and we enjoyed making music together, mainly for fun. I formed an acoustic duo with another CMU friend, Rob Simbeck, and we performed at coffee houses and at a bar called The Casbah. We were occasionally funny and usually in tune. We called ourselves Bruce and Rob (yes, we were creative too). For reasons of his own, Rob followed me to the great music capitals of America, Rochester, New York and Los Angeles, California in the 1980's. We wrote together and played at the LA Songwriter's Showcase, which at that time was held at the Improvisation in Hollywood. Rob later moved to Nashville and ran the Boston Marathon, but that's another story.
In the (relatively) recent past, I got back into writing and recording around 1998, and released my first CD "Jardin du Luxembourg" in 2003. That CD as well as my 2010 album "Message from Tomorrow" are available at CD Baby, and my songs are also available for download at iTunes, Amazon.com, and various other MP3 sites.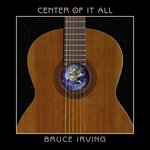 My Influences & Stuff
I like a wide range of music. Some of my favorite artists and writers are the Beatles, Sting, Paul Simon, Joni Mitchell, Neil Young, Mozart, U2, James Taylor, the Pretenders, Bruce Springsteen, Garth Brooks, Elvis Costello, Sarah McLachlan, Elton John, Fleetwood Mac, Billy Joel, CSNY, various Broadway shows, Dave Mathews, the Dixie Chicks, John Mayer, and many more. I listen to a lot of new music and recently have discovered the Black Keys and the Grip Weeds, among others.
...
My Albums
My new album "Center Of It All" was released on June 3, 2018. It and and my three previous albums "Look At You," "Message from Tomorrow" and "Jardin du Luxembourg" are all available for download on CDBaby.com, on iTunes, and on Amazon.com. You can also stream them on Spotify and Apple Music. Here are the lyrics for the title track of the album, which is dedicated to the memory of my late mother, Valerie Joan Irving (1932-2017).
Center Of It All
Falling off the backstop
Shaking it to see if it's broken
Shaving off your moustache
When your daddy has spoken
Drinking all the cheap stuff
Looking for a little fun
When you're seventeen
And life has just begun
Chorus
In the center of it all
In the middle of a memory
When you hear your mama call
And interrupt a little reverie
Some nights it all seems lost
Come the morning, a coin gets tossed
In the center of it all
Behind the third base line
Pretty girl laughing in a T-shirt
Catchin' your eye again
You'd been hoping that she'd flirt
Driving all around town
Looking for a little fun
Through the hot summer nights
Until the damn fall comes
Chorus
Bridge
From the sunrise to the edge of night
It's time that disappears
And I feel the days
Turning into years
In the center of it all
Chorus
Words and music by Bruce Irving and Rob Simbeck (C) 2014
All rights reserved
Thanks for visiting!